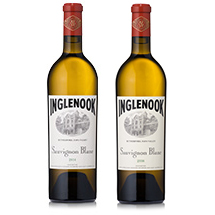 2014 Sauvignon Blanc
The 2014 Inglenook Sauvignon Blanc reveals a beautiful perfume – a mélange of tropical fruits and Meyer lemon, mingled with notes of honeysuckle and flower blossoms. From the round, silky palate flavors of citrus fruits and pineapple emerge, along with a touch of minerals. The wine is vibrant and expressive, with a structure that reflects an exquisite vintage.
100% Sauvignon Blanc
2016 Sauvignon Blanc
The 2016 Inglenook Sauvignon Blanc represents the first time Semillon was included in the final blend, where it serves to enhance the wine's balance, body and minerality. Aromatically, the wine expresses hints of lime zest, gooseberry, and pomelo. On the palate, natural acidity lends freshness, as flavors of pear and white peach appear. This wine can serve as an excellent apéritif.
88% Sauvignon Blanc and 12% Semillion