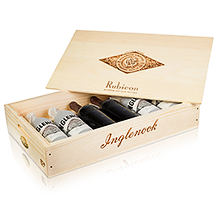 The Inglenook legacy dates back to 1879, when Gustave Niebaum created an estate he hoped would produce world-class wines. That dream was finally achieved by his grand-nephew, John Daniel, Jr., whose wines from the 1940s and '50s are widely regarded to be some of the best Cabernet Sauvignons ever made. Niebaum, Daniel and Inglenook played an important role in defining the Napa Valley.
In 1975, Francis and Eleanor Coppola purchased their first part of the historical estate from Daniel's widow, and inspired by the quality of some of the older vintages in the cellar, they vowed to restore the estate to its former glory. In 1978 they made the first vintage of Rubicon on the land that they owned, but could not yet call Inglenook. In 2011, they acquired the final piece of the puzzle – the right to once again use the Inglenook name for all wines from the 2009 vintage onwards.
Rubicon is Inglenook's premier wine – a Bordeaux blend that is the result of an uncompromising selection of the best fruit from the 235 acres (95ha) of vineyards. This unique vertical selection offers a rare opportunity to taste three acclaimed vintages side by side that reflect the elegance, freshness and longevity that is a testament to the Inglenook terroir.
Rubicon 2005 (95 pts Wine Advocate)
98.5% Cabernet Sauvignon, 1.5% Petit Verdot
Our 2005 Rubicon reflects the extended growing conditions of the vintage, displaying a precocious depth of flavor as well as a long, intense finish. The classically ripe character delivers a sweet impression, supple tannins, a rich, luscious mouthfeel and a prolonged finish of mocha, dark berries and chocolate.
Rubicon 2009 (93 pts Wine Spectator)
96% Cabernet Sauvignon, 3% Cabernet Franc, 1% Merlot
The Cabernet harvested on our estate in 2009 is well concentrated and displays powerful tannins that will reward cellaring. Intense aromas of dark berries with hints of violets and fine roasted oak fill the nose. The sturdy framework and intensely expressive red and black fruits give great power and length to the finish.
Rubicon 2010 (93 pts Wine Spectator)
86% Cabernet Sauvignon, 6% Cabernet Franc, 5% Petit Verdot, 3% Merlot
The 2010 growing season was one of the coolest of the last 30 years. The cold temperatures slowed the rate of sugar development in the fruit which necessitated longer hang time. This resulted in highly fragrant and flavorful grapes and, subsequently, a more elegant wine. Rich, round and elegantly textured, the 2010 Rubicon exudes deep dark aromas of kirsch, cherries and fruit jam combined with a hint of almonds. The finale is long, persistent and expressive.