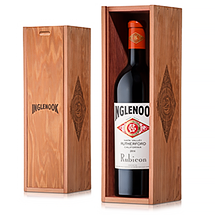 Winemaker's Tasting Notes
The 2014 Rubicon demonstrates harmonious, lasting character. Composed this year almost entirely of Cabernet Sauvignon, offers a sweeter, rounder nose than one might find in other vintages, which is a testament to the seamless integration of fruit, tannin, and oak. Weighted throughout, the wine's fragrance and flavors are linear from start to finish, with sophisticated notes of dark berries, black cherries, currants, spice and vanilla flowing together, bringing impressive complexity to this outstanding vintage.
Appellation: Rutherford, CA
Blend: 97% Cabernet Sauvignon, 2% Merlot, and 1% Petit Verdot
Vineyard: Lower Garden, Pritchett Hill, Gio, and Cohn
Alcohol: 14.2%
Regimen: 18 Months in 100% French Oak, 75% New oak
These limited production single bottle boxes are locally crafted using reclaimed coastal California Redwood previously used as large wine casks in Sonoma Valley around the turn of the century. Due to the unusual material used, each box has a special unique appearance alll of its own, no two boxes are the same. The rustic classic appearance of the redwood paired with wine stains from years of aging combine together to allow a one of a kind presentation. The box is fire branded with the Inglenook logo.
Box and wine ship separately.