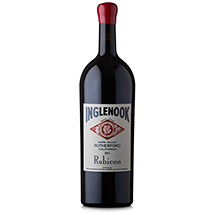 Vintage Notes
Inglenook's premier red wine, Rubicon, produced on the estate since 1978, restoring the estate's legacy of world-class wines. This wine is an elegant blend from the finest vineyard blocks, showcasing the best of both the estate and the vintage. The 2014 growing climate was consistently warm which triggered an early harvest that yielded fruit of high quality and impressive concentration. Compared to the 2012 and 2013 Rubicon, the soft integrated tannins of the 2014 vintage can be enjoyed as a young wine or cellared for decades. The true story of this wine develops over time, during which the 2014 Rubicon reveals the dynamic layers of complexity.
Winemaker's Tasting Notes
The 2014 Rubicon demonstrates harmonious, lasting character. Composed this year almost entirely of Cabernet Sauvignon, offers a sweeter, rounder nose than one might find in other vintages, which is a testament to the seamless integration of fruit, tannin, and oak. Weighted throughout, the wine's fragrance and flavors are linear from start to finish, with sophisticated notes of dark berries, black cherries, currants, spice and vanilla flowing together, bringing impressive complexity to this outstanding vintage.
Appellation: Rutherford, CA
Blend: 97% Cabernet Sauvignon, 2% Merlot, and 1% Petit Verdot
Vineyard: Lower Garden, Pritchett Hill, Gio, and Cohn
Alcohol: 14.2%
Regimen: 18 Months in 100% French Oak, 75% New oak