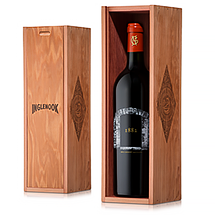 Winemaker's Tasting Notes
Having reduced yields in 2015 resulted in highly focused wines and made 1882 Cabernet Sauvignon an exemplary reflection of the vintage. Sweet, savory scents of cassis, forest floor, wild blackberry, cedar, and vanilla flow seamlessly into a consistent flavor impression on the palate. This wine evokes a true sensation of balance between freshness, oak integration, fruit concentration and modest alcohol. The luxurious mouthfeel and tannin structure offer the added assurance of extended cellar potential.
These limited production single bottle boxes are locally crafted using reclaimed coastal California Redwood previously used as large wine casks in Sonoma Valley around the turn of the century. Due to the unusual material used, each box has a special unique appearance alll of its own, no two boxes are the same. The rustic classic appearance of the redwood paired with wine stains from years of aging combine together to allow a one of a kind presentation. The box is fire branded with the Inglenook logo.