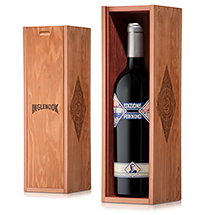 Winemaker's Tasting Notes
2015 Edizione Pennino Zinfandel boasts a fragrant nose of crushed ripe red cherries, violets, red licorice, clove, and rose petal. The palate is intensely saturated with deep, rich, tightly-woven flavors of macerated black raspberries, kirsch, allspice, and blackberry. Its velvety, sensuous texture extends from the mid palate clear through to the long and lavishly aromatic finish.
Appellation: Rutherford, CA
Blend: 93% Zinfandel, 7% Primitivo
Vineyard: Gate, Chiles, Cow Barn, Walnut, Saddle, Woodshed, and Bridge
Alcohol: 14.5%
Regimen: 18 Months in 50% French & 50% American Oak, 25% New oak
These limited production single bottle boxes are locally crafted using reclaimed coastal California Redwood previously used as large wine casks in Sonoma Valley around the turn of the century. Due to the unusual material used, each box has a special unique appearance alll of its own, no two boxes are the same. The rustic classic appearance of the redwood paired with wine stains from years of aging combine together to allow a one of a kind presentation. The box is fire branded with the Inglenook logo.
Box and wine ship separately.