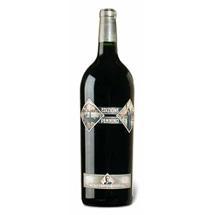 Accolades
Wine Enthusiast - 94
Wine Spectator - 93
Wine & Spirits - 90
History
Edizione Pennino Zinfandel pays tribute to Francis Ford Coppola's maternal grandfather, Francesco Pennino. Born in Naples Italy, Francesco emigrated to the United States as a young man, wrote songs, dabbled in the early movie business and started a music publishing company known as "Edizione Pennino." The company's logo depicted two images: the last view of Francesco's homeland, the Bay of Naples, and his first view of America, the Statue of Liberty. Francis Ford Coppola took the design in its original form and used it to identify the estate Zinfandel which, like Francesco Pennino's journey, is the grape most identified with the Italian influence on the California wine industry. To add to the nostalgia, each vintage bottling has one of Pennino's song titles imprinted on the cork.

Vineyard Notes
The Zinfandel for Edizione Pennino is grown in a variety of vineyard blocks scattered across Rubicon Estate's 235 contiguous acres. The old dry-farmed, head-pruned vines provide the backbone to the blends with concentration of berry fruit and spice while the younger plantings comprised of two historic clones, Morisoli and Werle, also contribute to the Edizione Pennino blend. The Morisoli clone provides the wine with fresh sweet raspberry fruit, lively acidity as well as spice impressions. The Werle clone adds aromas of dark boysenberry and provides a round texture.

Organic Farming
For three decades, Rubicon Estate has been organically farmed out of respect for the environment and our vineyard staff, as well as our belief that organic grapes make better wine. Although it is more difficult to cultivate Zinfandel using organic practices because of its vulnerability to mildew or botrytis, the rewards outweigh the extra efforts.

Vintage
The 2009 vintage represents the first year Edizione Pennino is presented by Inglenook. There were ideal weather conditions. Light spring rains were followed by warm summer days and no abrupt climates changes at season's end. As a result, the grapes ripened steadily and evenly, which allowed us to be highly selective at harvest, selecting fruit that displayed extra character, richness and complexity.

Winemaker's Notes
Zinfandel characteristically ripens fairly unevenly despite the steady ripening conditions from the 2009 vintage. To optimize fruit maturity and intensity many of the blocks were picked in as many as 3 passes on different days, selecting clusters that showed uniformity of ripening on a vine to vine and even cluster to cluster basis. Because we were patient in staggering the harvest, the tannins reached full maturity providing some softness and creaminess to the wine. After hand sorting and destemming, the grapes underwent a cold-soak period in small tanks to maximize color and flavor extraction before fermentation. Following fermentation the lots were aged in our climate controlled caves for 15 months in both American and French oak barrels.

Tasting Notes
Our 2009 Edizione Pennino Zinfandel has a concentrated nose of fresh boysenberry and raspberry fruit along with vanillin and mocha notes mingling with nuances of clove and nutmeg spice. The rich berry fruit flavors are generously followed into the mouth and continue into the finish with vanillin and spice notes. The texture is juicy and round with silky soft tannins providing both structure and a rich creaminess that lingers into the finish - enticing yet another taste.
Appellation: Rutherford, CA
Blend: 91% Zinfandel, 7% Petite Syrah, 2% Primitivo
Vineyard: Gate, Bridge, Carriage House, Cowbarn, Saddle, Walnut, Mountain, Chateau and Woodshed
Barrel Regimen: 15 months; new and used American and French oak barrels
Alcohol: 14.8%
Released: October 2011