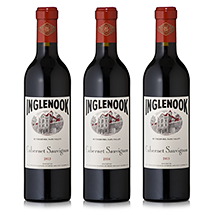 Our 2013 Inglenook Cabernet Sauvignon is a voluminous wine with upfront sweetness and fine, powdery tannins that develop intensity. Highly aromatic and immediately expressive, the palate reflects the nose with fragrant nuances of red and black fruits that include raspberries, cherries, blueberries, plums and blackberries, all enlivened by exotic spices, notes of tobacco, and a touch of dark chocolate.
The 2014 vintage of Inglenook Cabernet Sauvignon reflects a very pure composition that contains only small amounts of Cabernet Franc, Petit Verdot, and just a touch of Merlot. From this outstanding year emerges a smooth, generous palate with very fine dusty tannins and exemplary balance. As weighty and voluptuous as its predecessor, the flavors and fragrance of this vintage lean more heavily toward black fruits and seasoned wood. Cassis, blackberries, plums, and black currants provide juicy, mouthfilling flavors while distinct notes of cigar box, oak, graphite, and earthy spices create aromatic accents that are bound to evolve.
A classic expression of Inglenook's terroir, the 2015 Cabernet Sauvignon opens with a complex aromatic burst of cassis, black cherry, vanilla and anise. Supple, ripe tannins enhance a velvety palate, which boasts tremendous depth. Even more striking is the extravagant array of macerated black fruits which extends through the lingering finish.
NO FURTHER DISCOUNTS