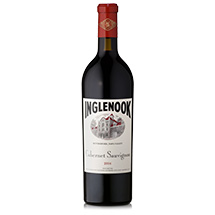 2017 Cabernet Sauvignon
Inglenook Cabernet Sauvignon is a tribute to John Daniel Jr., who produced the muchheralded Inglenook 1941 Cabernet Sauvignon from vine cuttings brought from Bordeaux to the Inglenook Estate by founder Gustave Niebaum. Today, this stand-out wine is still crafted with organically-farmed fruit grown exclusively on our estate.
Vintage Notes
Rainfall in winter and spring of 2017 was bountiful, totaling nearly 50 inches. These conditions allowed for a smooth transition into bloom and fruit set. All of the organically-farmed fruit on the Inglenook estate that comprise our 2017 Cabernet Sauvignon was harvested from September 5th to October 6th. The fruit shows balanced acidity across the board, lending freshness to the final blend – a hallmark of Inglenook wines.
Winemaker's Tasting Notes
Ruby in color, with a violet-edged hue, the 2017 Inglenook Cabernet Sauvignon shows notes of blackberry brambles, black cherry, truffle, fennel and cocoa. The structure is tightly-woven, with fine, round, velvety tannins; hints of vanilla and licorice arise during the long, generous finish. Superb balance and freshness ensure that this wine will continue to evolve in the bottle for years to come.
Barrel Regimen: 18 Months 100% French Oak 50% New Oak
Blend: 93.2% Cabernet Sauvignon 4.7% Cabernet Franc 1.1% Merlot 4% Petit Verdot