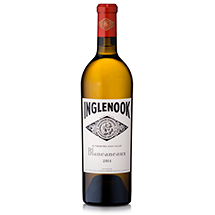 Vintage Notes
The 2018 vintage will be remembered as one with a generous crop of excellent quality. Well-timed precipitation in March and April ensured an advantageous commencement of the growing season with slow, steady initial shoot growth. Budbreak in the vineyard blocks contributing to Blancaneaux was late, ending on April 18th. Bloom was complete by early
June, as moderately warm temperatures led to a desirable fruit set for all white Rhône varieties. All fruit was harvested from September 5th through September 23rd, delivering ultra-high-quality fruit that retained ample natural acidity.
Winemaker's Tasting Notes
Brilliant in appearance, the 2018 Blancaneaux shows complex aromas of white peach, clover honey and lychee fruit. On the palate, the wine is full-bodied, refreshing and wellbalanced, building to a long, supple finish with lingering notes of minerality and lemon zest.
Blend: 38% Viognier, 38% Marsanne, and 24% Roussanne
Vineyards: Apple, Saddle
Alcohol: 14.0%
Barrel Regime: 7 months. 66% Stainless Steel, 34% French Oak and 21% New Oak