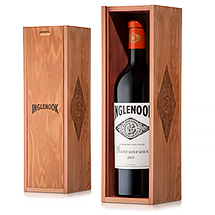 Winemaker's Tasting Notes
Lavishly aromatic with a wide broad palate, 2016 Blancaneaux offers a vivacious nose of lychee, lemon zest, grapefruit, and white flowers. Distinct mineral notes and tree fruit tones reminiscent of white peaches create an elegant layering reflective of the Roussanne and Marsanne in the blend. Big, bold flavors of tropical fruits such as pineapple, guava, and passion fruit fill the palate, yet there is also brisk natural acidity and crispness, creating a highly finessed expression that is true Blancaneaux.
These limited production single bottle boxes are locally crafted using reclaimed coastal California Redwood previously used as large wine casks in Sonoma Valley around the turn of the century. Due to the unusual material used, each box has a special unique appearance alll of its own, no two boxes are the same. The rustic classic appearance of the redwood paired with wine stains from years of aging combine together to allow a one of a kind presentation. The box is fire branded with the Inglenook logo.
Box and wine ship separately.