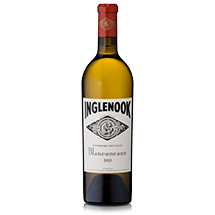 Vintage Notes
Created in 1999 as a partner to Rubicon, Inglenook's premier red wine, Blancaneaux is a white Rhone-style blend of estate-grown Marsanne, Roussanne, and Viognier. Taking the complex personalities of each varietal and artfully blending them together results in Blancaneaux. The Marsanne and Roussanne contribute body and minerality, while the Viognier brings an intense bouquet of tropical fruits. These varietals are grown in vineyard blocks that have ample early morning sun, but are in full-shade by mid-afternoon, because of the shadows cast upon them by Mt. St. John. The 2015 growing season allowed the grapes to develop a splendid balance of pH and acidity that brings forth exquisite opulence without the sacrifice of acidity.
Winemaker's Tasting Notes
Lavishly aromatic with a wide broad palate, 2015 Blancaneaux offers a vivacious nose of lychee, lemon zest, grapefruit, and white flowers. Distinct mineral notes and tree fruit tones reminiscent of white peaches create an elegant layering reflective of the Roussanne and Marsanne in the blend. Big, bold flavors of tropical fruits such as pineapple, guava, and passion fruit fill the palate, yet there is also brisk natural acidity and crispness, creating a highly finessed expression that is true Blancaneaux.