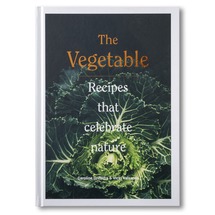 The Vegetable: Recipes That Celebrate Nature - Caroline Griffiths and Vicki Valsamis
The humble vegetable can, all too often, play "second-fiddle" to the central course at mealtime. Griffiths and Valsamis have put all of their respective experience and talent into presenting readers with the culinary opportunities––and surprises–-of having vegetables be the main attraction of the table. Divided according to the style of vegetable, the book contains 130 recipes for large or small dishes, sure to delight even the pickiest of eaters. With full-color photographic illustrations by Chris Middleton.
Published by Smith Street Books, 2017.