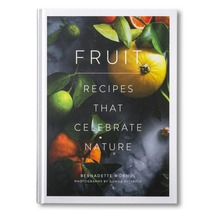 Fruit: Recipes That Celebrate Nature - Bernadette Worndl
This well-designed book is arranged alphabetically, according to the 20 different fruits showcased, and contains 120 recipes that are contemporary versions of Mediterranean classics. Whether overall sweet or tangy, the recipes collected by Bernadette Worndl––who once worked with Alice Waters at Chez Panisse in Berkeley––introduce readers to a whole new world of flavor combinations that are certain to become part of your everyday meals. With tantalizing photographs by Gunda Dittrich.
Published by Smith Street Books, 2018.