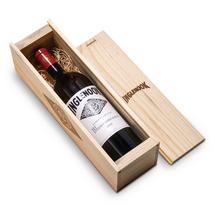 These limited production single bottle boxes are locally crafted. Due to the unusual material used, each Pinewood box has a special unique appearance all of its own, no two boxes are the same. The Pinewood box is fire branded with the Inglenook logo.
Winemaker's Tasting Notes
Brilliant in appearance, the 2018 Blancaneaux shows complex aromas of white peach, clover honey and lychee fruit. On the palate, the wine is full-bodied, refreshing and wellbalanced, building to a long, supple finish with lingering notes of minerality and lemon zest.
Blend: 38% Viognier, 38% Marsanne, and 24% Roussanne
Vineyards: Apple, Saddle
Alcohol: 14.0%
Barrel Regime: 7 months. 66% Stainless Steel, 34% French Oak and 21% New Oak