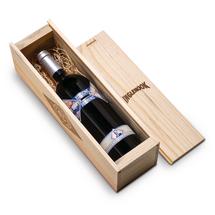 These limited production single bottle boxes are locally crafted. Due to the unusual material used, each Pinewood box has a special unique appearance all of its own, no two boxes are the same. The Pinewood box is fire branded with the Inglenook logo.
Winemaker's Tasting Notes
With its vibrant violet-hued ruby color, the 2017 Edizione Pennino Zinfandel is youthful in appearance. Aromas are complex, ranging from ripe strawberry and black raspberry to warm blackberry pie, clove, and a hint of blood orange zest. The wine is velvety, generous, and round. This is a classic example of Inglenook Zinfandel.
Blend: 95% Zinfandel, 3% Primitivo, and 2% Petite Sirah
Alcohol: 14.8%
Barrel Regime: 18 Months, 15% New American Oak, 10% New French Oak, with 75% Neutral American & French Oak
Pennino Song Title: "Gelosa Mia" (1920)