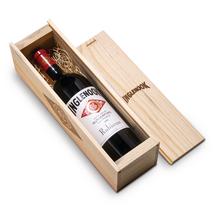 These limited production single bottle boxes are locally crafted. Due to the unusual material used, each Pinewood box has a special unique appearance all of its own, no two boxes are the same. The Pinewood box is fire branded with the Inglenook logo.
Winemaker's Tasting Notes
Ideal harvest conditions endowed the 2016 Rubicon with the three elements associated with a truly great wine from the Rutherford appellation: complexity, balance, and elegance. The aromas are intense and focused with top notes of creamy, sweet vanilla, and black licorice wound around a core of exquisitely ripe black cherry and crème de cassis. This refinement extends directly to the palate, where the wine is both broad and deep with sensuous, silky tannins. Supremely balanced in terms of both opulence and complexity, ripe black fruits and an ultra-smooth texture provide an impressive crescendo to a very long finish.
The production of Rubicon, Inglenook's premier red wine, began in 1978 and restored the Estate's legacy of making world-class wines. Rubicon is an elegant blend from the finest vineyard blocks, and showcases the highest potential of both the Estate and the vintage.
Blend: 93% Cabernet Sauvignon and 7% Cabernet Franc
Alcohol: 14.1%
Barrel Regime: 18 Months, 100% French Oak and 75% New Oak