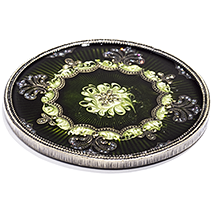 Enamel is combined with sparkling crystals to create this bold coaster. Use to style your home or to use as a wine coaster. The use of these coasters can be functional or stylish. The artistic merits of this coaster shine when left out sitting on a bar or table. These beautiful coasters should be treated the same as a heirloom and passed down.
Choose from blue, brown, green or red
4 inches in diameter.