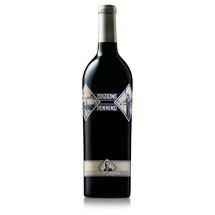 Accolades
94 points - Wine Enthusiast


History
Edizione Pennino Zinfandel pays tribute to Francis Ford Coppola's maternal grandfather, Francesco Pennino. Born in Italy, Francesco emigrated to the United States as a young man and started a music publishing company known as Edizione Pennino. The company's logo depicted two images: the last view of Francesco's homeland, the Bay of Naples, and his first view of America, the Statue of Liberty. Francis Ford Coppola took the design in its original form and used it to identify the estate Zinfandel which, like Francesco Pennino's journey, is the grape most identified with the Italian influence on the California wine industry. To add to the nostalgia, each vintage bottling has one of Pennino's song titles imprinted on the cork.
Vineyard Notes
The Zinfandel for Edizione Pennino is grown in a variety of vineyards scattered across Rubicon Estate's 235 contiguous acres. Two historic clones contribute to Edizione Pennino: Morisoli and Werle. The Morisoli clone provides the wine with sweet fruit as well as cedar and spice impressions. The Werle clone adds aromas of chocolate and mocha and a palate of dark, rich fruit.
Organic Farming
For three decades, Rubicon Estate has been organically farmed out of respect for the environment and our vineyard staff, as well as our belief that organic grapes make better wine. Although it is more difficult to cultivate Zinfandel using organic practices because of its vulnerability to mildew or botrytis, the rewards outweigh the extra efforts.
The Vintage
The growing season for 2007 was about as perfect as one could imagine. The overall lack of rain was really the single factor that presented any type of challenge. Spring experienced only moderate amounts of rain and then the rest of the growing season was dry. In October, we had only enough rain to knock the dust off the grapes. Nighttime temperatures from May to September were in the mid-40s to mid-50s; daytime temperatures almost never exceeded 90 degrees. This even, steady heat coupled with cool nights allowed the grapes to develop complex and luscious flavors.
Winemaking Notes
Our Estate Zinfandel was harvested under perfect conditions. It immediately demonstrated intense flavors and more tannin than usual, creating a wine that is well structured and long lived. Pennino Zinfandel underwent a cold soak period to maximize color and flavor extraction. Each lot was then fermented separately in 2 to 4-ton oak fermentors where punchdowns occurred daily. A portion of the wine went through prolonged malolactic fermentation throughout the winter, making Pennino round, lush and with a persistent finish.
Tasting Notes
The 2007 Edizione Pennino Zinfandel is dark, solid and dense, possessing a mouth-filling intensity and complexity. Aromas of raspberries, white pepper and truffle are followed by seductive flavors of blueberries, blackberries, briar and spice. The wine bears a classic structure with a harmonious balance of tannin, and fruit well suited for a wide range of meats, poultry and cheese.
Appellation: Rutherford, CA
Blend: 90% Zinfandel, 10% Petite Sirah
Vineyards: 100% estate-grown and organically-farmed; Gate, Bridge, Carriage House, Cowbarn, Saddle, Walnut, Mountain, Office and Woodshed vineyards
Barrel Regimen: 15 months; new and used American and French oak barrels
Alcohol: 15.1%